*This site is set so you can click on the content on left and visit each dogs page. Some of the dogs are with others who are a result of our years helping develope healthy Havanese and sharing this effort internationally with others dedicated to the breed*
HAVANIQUE SHADES OF GRAY AT GRISTMILL
WINNERS DOG HIS FIRST TIME IN AN AKC SHOW.
EST:1966
Havanese@usa.com

304-995-1738
Martinsburg, WV
*** Since 1993 we have bred to create quality, healthy show examples of correct Havanese. Those who have our Havanese as pets benefit from this dedication to the breeds future with healthy, well adjusted companions to love and cherish.

A "BEST IN HOME" is as important as a "BEST IN SHOW" to the sincere breeder.
*est 1966. A change of name from ZujerO/Lejerdell. But the same quality breeding/exhibiting program.*
The Puppy-Mill Problem
Puppy mills, high-volume breeding facilities with substandard breeding practices and conditions, can have a huge effect on a dog's health and personality. A particular breed of dog may be known for docility and quiet, yet that same dog, when bought from a puppy mill, may turn out to be aggressive and destructive. Always deal with reputable breeders if you decide on a pure-breed dog.
This is a link to my photo show site. A WORK IN PROGRESS TO SHARE MY DIGITAL PHOTOS OF DOGS WHO HAVE ENRICHED AND ARE PART OF MY LIFE.
*Look in"Stork Alert" for puppies available*
JerOme Podell has been involved in breeding and exhibiting of quality show dogs since 1966. Involved in the development of the Bichon Frise, Soft Coated Wheaten Terrier, Bichon Havanese and the new breed from Hungary "PUMI". Dogs we have bred, owned or exhibited are featured in many breed publications.
The goal is to breed quality based on a global vision of our breeds mental, physical and structural quality. Addressing heath issues to produce the best represenatives to show, breed or just be the best pet one could have.
Pictured is CH.GENRE TANGO BY LEJERDELL. An excellant example of the result of Europes top breeding. Tango is the sire of champions and contributing to the quality of the breeds future. Sire: Hungarian CH.Salemi CoCo (brother to a top sire in America, Ch. Salemi Charly ROM) Dam: A Maiden Effort Wild Rhythmn ROM. Bred by JerOme Podell and Anja van Haarlem Tango is Current CERF clear. OFA clear hips and Patellas. X-rayed available to show his proper front leg assembly. Available at stud only to those addressing the breeds health issues.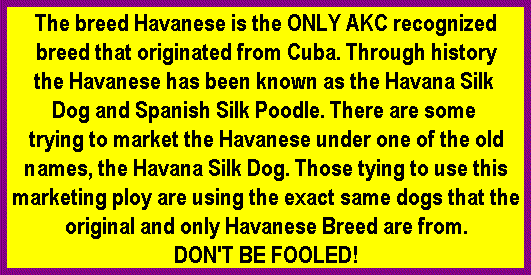 * Havanese is the only breed of dog from Cuba recognized by the American Kennel Club. In different countries there are variations in the name.



*By any name they are one and the same "HAVANESE".*
We support the Constitution and Bylaws of the Havanese Club of America.
Breeding/exhibiting TRUE CUBAN TYPE HAVANESE as directed by the breed standard governed by the American Kennel Club.
Please use caution when searching for the right dog.Be careful of breeders who do not test for the health of dogs used in there breeding programs.Of the bargain priced dogs who cost more in the long term.Be careful of contracts which offer short term guarantees.If hereditary problems occur, it is often after two years of age.

Do not purchase from those offering any registration other than from the American Kennel Club (AKC).As many for profit breeders offer pseudo papers set up from bogus registries which allow unverified breedings.IE mixes represented as Havanese. The pedigree from any organization but AKC can not be validated.

Be informed as having a dog is a serious commitment.